Status of Corporate Governance
Our Basic Approach to Corporate Governance
Sangetsu's Company Creed is "Sincerity," and we aim to enhance corporate value by building good relationships with all stakeholders and developing these relationships steadily over the long term. We realize that, to achieve this goal, we need to position the strengthening of corporate governance—with the transparency, speed and efficiency of management as its foundations—as a key management issue. Sangetsu has transitioned to become a company with an Audit Committee in 2015, with the aim of strengthening the auditing and supervisory functions with respect to the Board of Directors by having external directors participate in management. We are striving to achieve further enhancement of corporate value on the basis of this governance system.
Corporate Governance System
Starting from June 2019, Sangetsu has strengthened its corporate governance system by enhancing the oversight function with respect to the Board of Directors through the appointment of two executive directors and five Audit Committee members (of which four are independent external directors).
Under this system, we will seek to revitalize discussions from the point of view shareholders and also strengthen the audit and supervisory functions over the execution of the Company's operations. Furthermore, the term for the accounting auditor, who tends to be reappointed, has been limited in principle to a maximum of 10 years with the intention of ensuring and maintaining greater independence and appropriate external audits. The Company has thus established a system for enhancing the transparency of its corporate management.
Furthermore, following a proposal raised at the Ordinary General Meeting of Shareholders held on June 25, 2020 regarding partial amendments to the Articles of Incorporation, the number of Executive Directors was reduced to no more than four from no more than 10 in consideration of the current number of such directors. As a result, the maximum number of Executive Directors (four) is now half the maximum number of Audit & Supervisory Committee members who are directors (eight).
Framework of the corporate governance system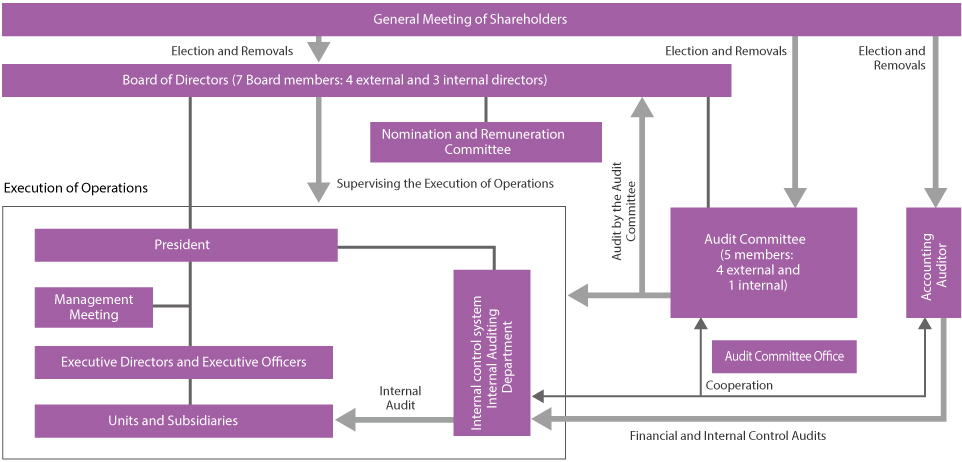 Board of Directors
The Company's Board of Directors consists of four outside directors and three internal directors and meets once a month.
In accordance with the Articles of Incorporation, all or part of the decision-making responsibilities regarding the execution of certain operations have been delegated from the Board of Directors to the representative director (President) to speed up the decision-making process. The Board of Directors monitors the progress of matters delegated to the representative director.
Audit Committee
The Audit Committee consists of four outside directors and one full-time internal director.
While the Audit Committee relies mainly on audits utilizing the internal control system, members also conduct direct onsite audits of business sites inside and outside Japan. The committee seeks to strengthen the effectiveness of its audits by gathering and sharing valuable information through the periodic exchange of views with the President, reports presented by executive directors,executive officers and employees, and liaison meetings of audit committee members at affiliated companies. The committee is actively involved in the execution of the right to state an opinion with respect to the election and remuneration of executive directors and executive officers in an effort to enhance governance.
Separation of the supervisory and executive functions in management
In order to strengthen the independent, objective oversight of the Board of Directors, Sangetsu has adopted a new corporate governance system and management execution system that separates the supervisory and executive functions of management.
Assessing the Effectiveness of the Board of Directors
Once a year, each director conducts a self-assessment of the Board of Directors, which is followed by an analysis and assessment of the effectiveness of the Board as a whole. The survey covered a broad range of assessment criteria, from the composition of the Board to the quality of discussions and dialogue with stakeholders.
A questionnaire survey was administered to all directors in fiscal 2019 (implemented between December 2019 and January 2020). After approval by the Board of Directors, the assessment results were disclosed in the Company's Corporate Governance Report.
Method Used to Evaluate the Effectiveness of the Board of Directors in Fiscal 2019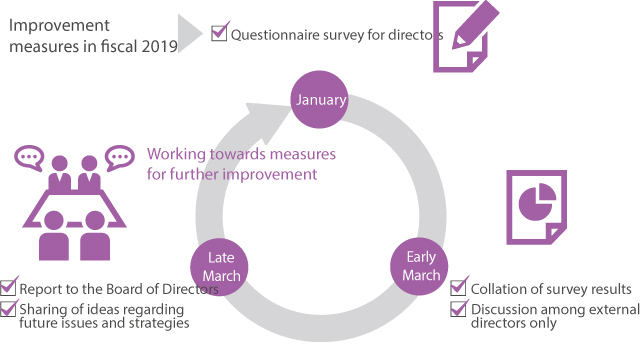 Main assessment items and results
The composition of the Board of Directors was generally well-balanced, but some consideration was needed in the area of accounting and finance.
The scope of delegation of authority to the representative director was clearly specified, and appropriate.
The Board of Directors is making the appropriate decisions at the appropriate timing.
The Board of Directors engaged in free, open and constructive discussion, and the quality of discussion of individual motions was high.
Supervision of business execution of the Board of Directors was appropriate.
There have been some measures taken to improve the operating method of the Board of Directors, but there is still room for improvement.
There were opportunities to hear the views of stakeholders, and an effort was being made to report such views fully to the Board of Directors.
Policy for Determining the Remuneration of Directors who are Concurrently Executive Directors and Executive Directors
Sangetsu's system of compensation for executive directors comprises (1) basic compensation, (2) performance-linked compensation (bonuses), and (3) restricted stock compensation. Directors who are not concurrently executive officers and outside directors receive only basic compensation. This system was introduced in 2017; however, it was partially revised in fiscal 2020 to link compensation more closely with business performance and Sangetsu's share price.
Basic compensation is determined by the Nomination & Remuneration Committee after reviewing the director's contribution to earnings in the prior fiscal year and applying a contribution rating indicator of 0.85 to 1.25. The basic compensation of executive officers is ¥15 million.
The multipliers applied to the basic compensation of executive officer with titles is shown in the graph below.
Performance-based bonuses are determined by business earnings and ROE, an indicator of capital efficiency.
The multiplier for each title position has been set such that the portion of performance-based bonuses and restricted stock compensation increases in line with higher titles.
Correlation graph of each executive's compensation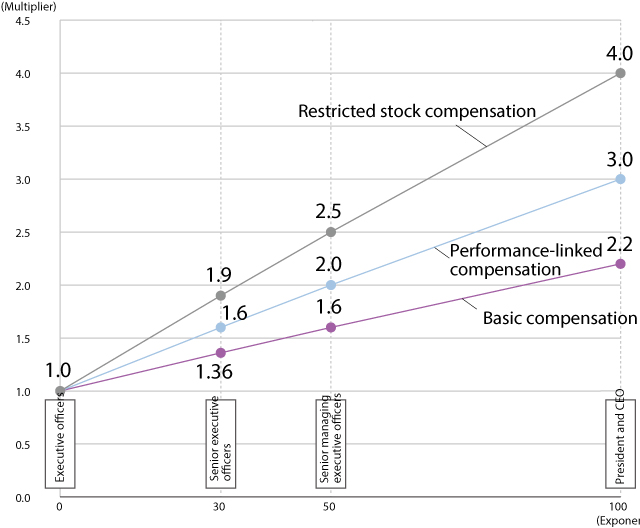 Standards of Independence for External Directors
In addition to satisfying independence criteria, as defined by the Companies Act of Japan and listed stock exchanges, Sangetsu Corporation appoints external directors that possess the advanced expertise and wealth of experience required to provide candid and constructive advice on company management. The Standards of Independence applied to external directors are as follows.
1. Individuals for whom none of the following currently applies:
(1) a shareholder who owns more than 5% of the voting rights of Sangetsu Corporation or an executive officer of the shareholder;
(2) an executive officer of a company whose transactions with Sangetsu Corporation exceed 2% of Sangetsu's consolidated sales or a subsidiary of said company;
(3) an executive officer of a major lender of Sangetsu Corporation, whose lending to the Sangetsu Group exceeds 2% of Sangetsu's consolidated total assets as of the most recent fiscal year end;
(4) a certified public accountant who belongs to Sangetsu Corporation's accounting auditor;
(5) a consultant, accounting expert, or legal expert who receives an annual sum of ¥10 million or more in monetary or other benefits from Sangetsu Corporation in addition to remuneration paid by Sangetsu. In the event the recipient of such benefits is a corporation or organization, any individual who belongs to such a corporation or organization;
(6) an executive officer of an organization that receives an annual sum of ¥1 million or more in donations from Sangetsu Corporation;
(7) a second-degree relative of an individual who falls under any of the above-mentioned (1) to (6); and
2. An individual for whom none of the above-mentioned (1) to (7) applied at any point in the past three years.
Seminars and Other Activities for Directors
The Company holds a compliance seminar for directors with lectures by outside experts and encourages directors to attend outside seminars. To aid independent external directors in raising their awareness of the state of operational execution, the Company conducts onsite inspection tours and provides opportunities for exchanging views with management, in addition to orientation sessions at the time of their appointment.
Expertise and Activity of Audit Committee Members Who Are Also External Directors

Message from an Outside Director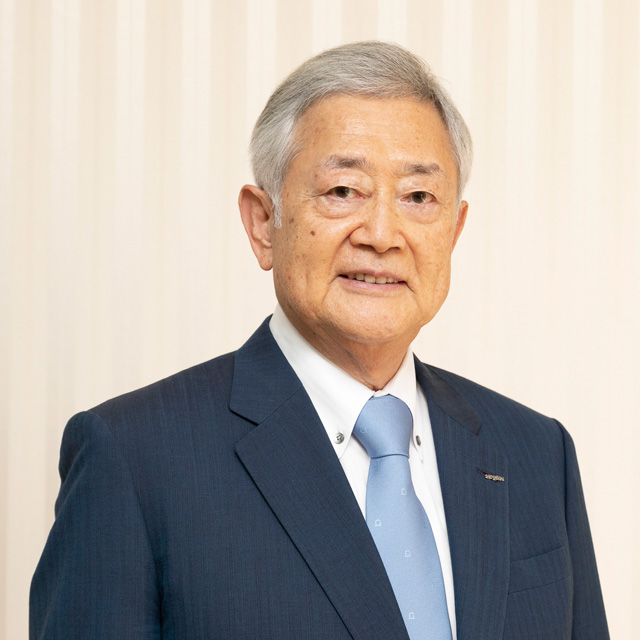 The mission of an outside director and preparing for Sangetsu's future path
Kunihiro Nasu
Outside Director and Audit Committee Member
Chairperson of Audit Committee, Chairperson of Nomination and Remuneration Committee
I was appointed as an Auditor of Sangetsu in June 2007 and became an Outside Director and Audit Committee Member with the adoption of an Audit Committee system in June 2015. The mission of Audit Committee members is to supervise executive officers and participate in deciding important matters facing the company as members of the Board of Directors. I believe Outside Director and Audit Committee members must stand from the viewpoint of shareholders and other key stakeholders. I therefore strive to listen to the opinions of a large number of shareholders and other stakeholders to fully understand their expectations of Sangetsu. Without this understanding, it is not possible in my opinion to make the correct decisions when supervising executive officers or deciding matters at meetings of the Board of Directors. I therefore look forward to opportunities such as briefings or shareholders and investors and other meetings to listen to their opinions and have them understand the current status at Board meetings.
At the same time, I participate in Board meetings as a matter of course but also management meetings and meetings to consider specific business issues in an effort to understand conditions at the Company in detail.
There are Outside Directors within the Audit Committee and important information such as internal auditors' reports is always shared with them. In addition, we receive quarterly reports from our accounting auditors, which are the topic of information exchanges. The outside directors who are members of the Audit Committee also serve as members of the Nomination and Remuneration Committee, which deliberates so that the selection of executive officers and decisions on their remuneration are conducted appropriately.
I have been involved in audit duties at Sangetsu since it was run by the founding family. Since Sangetsu has been under President Yasuda's leadership, however, a variety of reforms have been implemented to modernize the company. On the governance front as well, Sangetsu was a pioneer in its industry in adopting a Company with an Audit Committee structure.
I am pleased to see that Sangetsu continues to move steadfastly forward in innovating not only in terms of processes but mindset as well. To cite an example, in formulating the new medium-term business plan, a project team of employees decided on matters from a bottom-up perspective and employees are playing a role in management.
The Sangetsu Group recently announced its new medium-term business plan and long-term vision looking ahead to 2030. Within these the "Social value the Sangetsu Group aims to achieve" include "a healthy and inclusive society", "a sustainable society that protects the global environment", and "a more affluent and enjoyable society". I have the impression that these aspirations clarify what President Yasuda has valued in reforms implemented thus far. The Audit Committee members will be more sensitive to society's expectations in thinking about the path Sangetsu should take in the future.