The Long-term Vision of Sangetsu Group 【 DESIGN 2030 】
The Sangetsu Group has formulated 【 DESIGN 2030 】 as its long-term vision that defines the Group's ideal state and serves as a guide for realizing sustainable growth in the future.
We are striving to transform ourselves into a Space Creation Company, which is the principal goal defined in the Long-term vision 【 DESIGN 2030 】. By doing so, we will achieve further growth from business development centering around sales of interior products. Through this initiative, we intend to create a new business model to sell space designs, products, and installation/construction services for space creation in a comprehensive manner by leveraging the entire range of functions required, from design to logistics and installation/construction.
Toward this end, we are making group-wide efforts to build and refine business structures that underpin extensive proposal activities, and integrating designs for products, spaces, and experiences.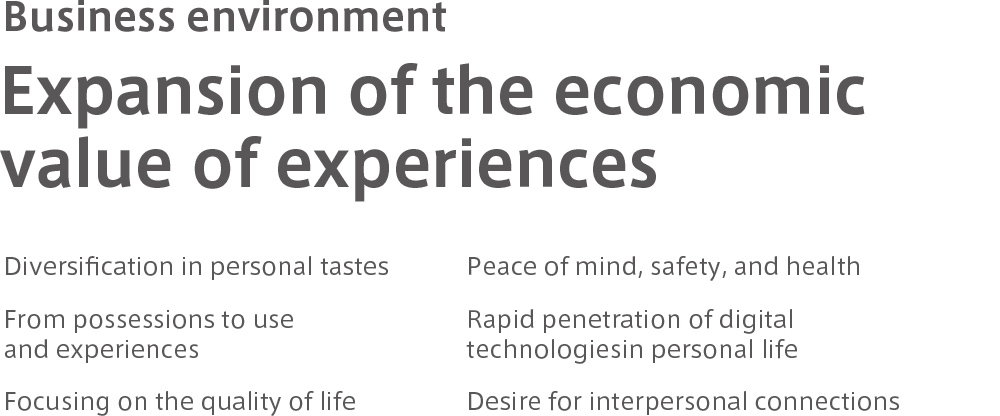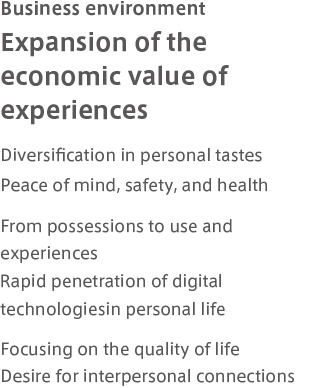 Sangetsu Group will aim to increase the value we can provide through designing to transform our business.
Not only pursuing the beauty, function and coordination of products and spaces themselves, we will conceptualize, design and propose the interaction of people and space by considering the way people spend time, live, experience and act.
In addition to designing entities and space, we will increase our brand value by designing and proposing experiences, and will aim to transform, from the company that sells things, into the company that creates spaces, and proposes and realizes matters.